When it comes to the foods you put into your body every day, they can either help or hurt your metabolism.
What's your metabolism? Although we hear this word thrown around often, you may not fully understand the real meaning, and how it works.
In short, metabolism is your body's own natural built-in process to take what you eat and drink and turn it into energy! During this process, you burn calories and fat, so how well your metabolism is working – and how fast it's moving – is important for weight loss and maintaining a healthy weight.
This of course is where the right foods make a huge difference, and actually help to fuel that energizing and calorie-burning process within your body, so that you can slim down, look and feel your best.
When it comes to your metabolism and your diet, smoothies are one of the best foods to help you get well-balanced, metabolism-boosting nutrition. 
The best diet shake smoothies for a fast metabolism will be high in protein, rich in fiber and healthy fats, low in sugar, and packed with vitamins and minerals from real whole foods.
Here are 5 smoothie ingredient combos that are not only incredibly exciting and delicious, but we highly recommend you try as part of your overall healthy metabolism plan…
4 Metabolism-Boosting Food Combos to Try:
Chocolate + Cayenne Pepper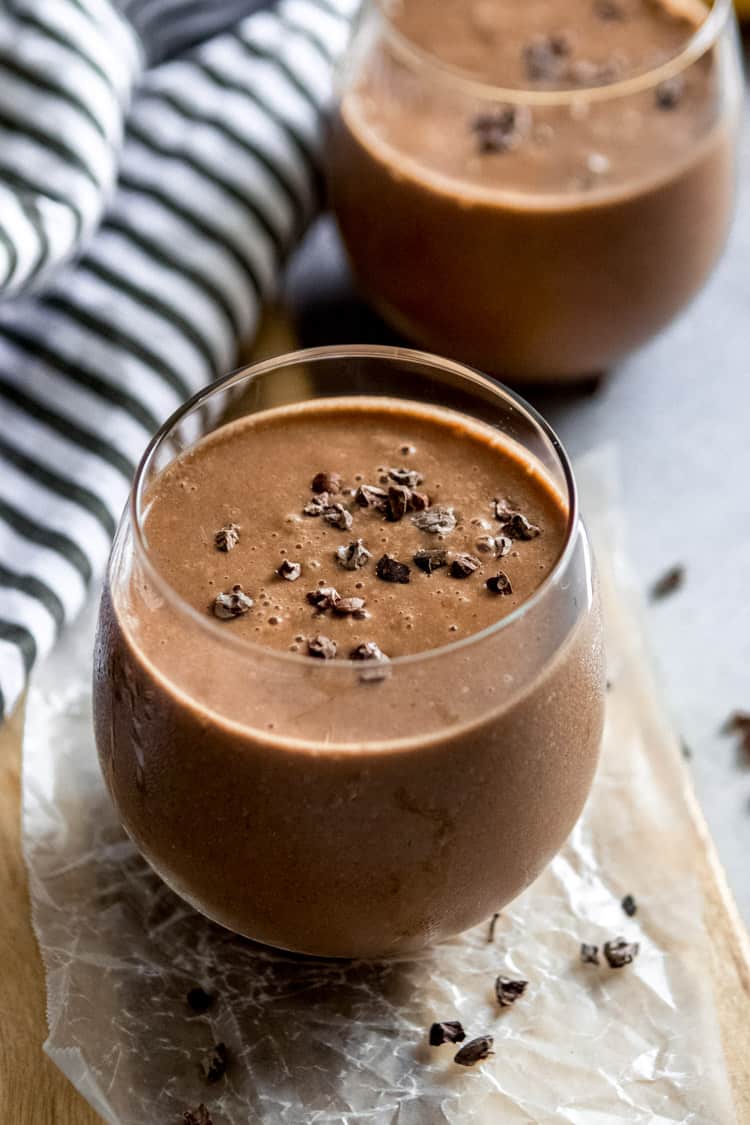 Image credit: Lemons + zest
Our first yummy food combo for a fast metabolism diet is one that you'll immediately love! Did someone say chocolate?! Not only is cocoa one of the best foods to kick up your metabolism, it's also the star of the show in this smoothie along with cayenne – creating an irresistible sweet and slightly spicy mix.
If you've never made a smoothie with a dash of cayenne pepper, it may just be your new favorite indulgence. Not to mention that cayenne, along with all hot peppers and spices, provide a thermogenic, or "heating" effect in the body, raising body temperate and creating increased calorie burn.
In this particular smoothie recipe, the mix of frozen banana, cocoa powder, and cayenne is a truly exciting, nourishing, and energizing combination that can help with your slimming efforts, while tasting extremely delicious!
Check out this Chocolate Banana Smoothie Recipe with Cayenne here.
Ginger + Spinach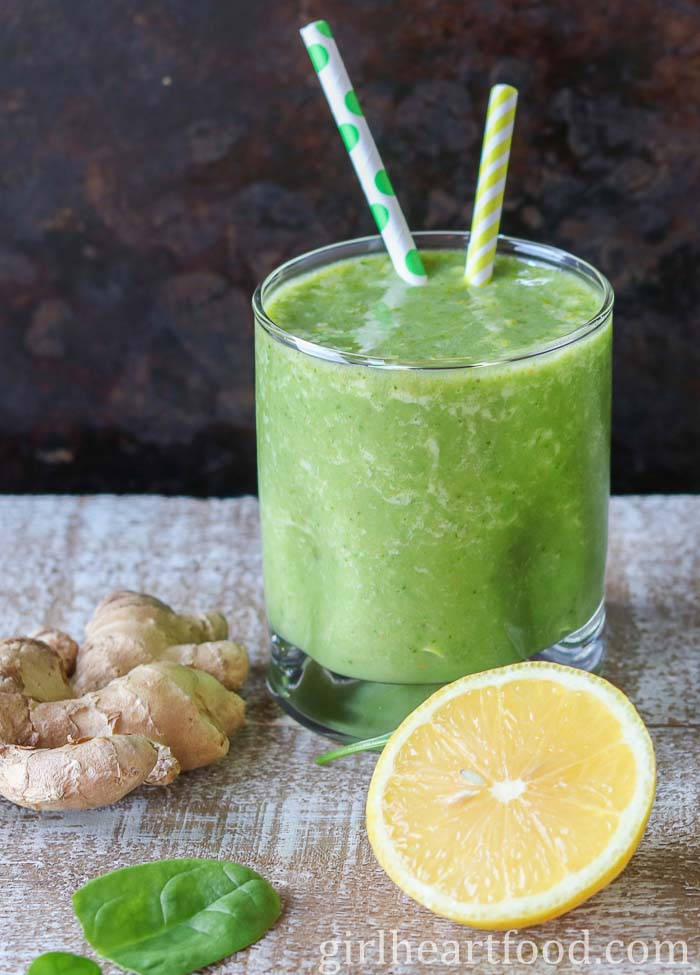 Image credit: Girl Heart Food
This recipe gives an exciting twist to the term "green smoothie", with a welcome sweet and spicy zip from ginger, and a creamy-smooth texture from nutrient-packed spinach.
This shake also gets an extra kick for both overall health and a fast metabolism from pH balancing lemon and inflammation-fighting spice, turmeric. So, it's really a powerful drink for metabolism-boosting.
When it comes to the key ingredients, ginger is a super-herb that has been shown to greatly help fight body fat and kick up metabolism after eating it. This smart spice, combined with spinach – which is packed with fiber that assists with optimal digestive processes – is perfect for keeping up with high energy and a fast metabolism, daily.
Not to mention that with pineapple and banana, this shake has a blissful tropical flavor that will tantalize your taste buds, and is far from a boring green drink!
Check out this Ginger Smoothie with Spinach recipe here. 
Berries + Oats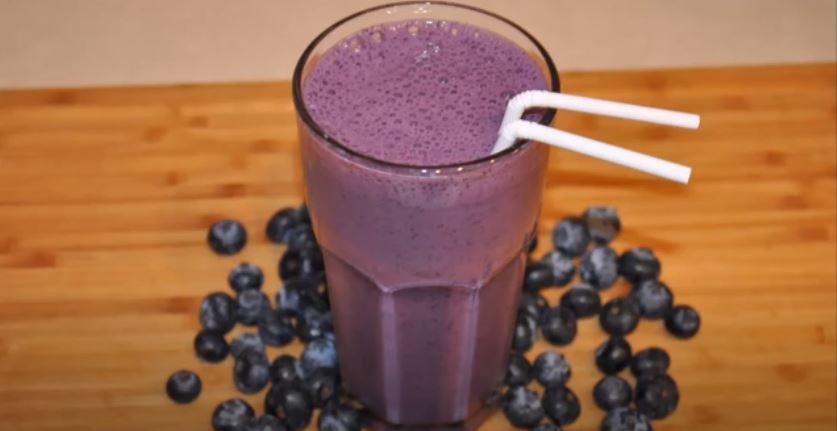 Image credit: AllSmoothies.net
Next, you may not think of berries – a typical smoothie staple – as being highly beneficial to a speedy metabolism, but the mix of fiber, vitamins and minerals makes them a treat for your digestion and energy. Add in oats – which are also super-high in fiber and are known to help improve metabolic function – and you have a metabolism-revving treat.
This smoothie, which has memorable flavor and addicting appeal, also contains green tea,  which has "thermogenic" or heating properties to help you burn more calories and fat.
Plus, the combo of berries, banana, oats, Greek yogurt, and green tea is simply a party for your appetite, any time of day.
Check out this Metabolism-Boosting Blueberry Smoothie recipe here.
Vanilla Protein Powder + MCT Oil
Image credit: Vegetarian Times
As our final tip, what is one of the best metabolism-boosting foods for your diet? Extra high-quality protein. Though many types of protein – like lean meats, eggs, nuts, seeds, and dairy – all contain protein, drinking a protein-packed protein powder is a quick way to get more into your diet.
We recommend you check out our reviews on the best protein powders available right now. Adding a protein-packed diet shake to your smoothies is one of the easiest and most nutritious ways to give it super metabolism power!
Another star of this recipe, MCT oil, is a fast-absorbing oil that immediately gives your body and brain a boost of energy, revving up your system and helping you along in your weight loss goals.
Plus, this smoothie will delight your senses, with sweet and spicy notes and let you indulge in pumpkin any time of year!
Check out this Pumpkin Golden Milk Smoothie recipe here.
Which fast metabolism combo will you try first?! Remember to check out our selection of diet shakes to find the flavor and protein type that goes best with your goals. And to learn more about metabolism and your goals, check out this article with 7 easy steps to boost metabolism!